Field Study, watercolor and pen, Old Lyme, CT 5/28/11
notes from my field sketch book...summer begins, a beautiful chorus of red wing song guides me through this sketch...the breeze is lovely, soft, only the gnats annoy
Field Study, watercolor and pen, 5/28/11
notes form my sketchbook...same scene from the other side of the river
Filed Study, watercolor and pen, Old Saybrook, CT 5/28/11
Here's the downy woodpeckers tree house. What a neat little circular opening he has carved!
Some of the beautiful marshland I visited today.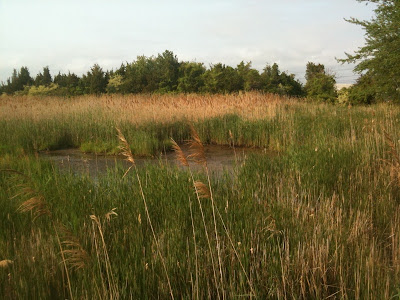 My very simple set up...a
yak pak
filled with my paints, brushes, markers, water, paper towels, bug spray, etc. a
walk stool
and my favorite
Pentalic Nature Sketch
sketchbook.
Memorial Day weekend is often the time I renew my enthusiasm for field sketching and this year was no exception. I'm looking forward to many more sketching adventures this summer, and remember the next worldwide sketch crawl is July 23rd!