Metamorphosis, 20x24, acrylic on linen, Jan Blencowe, copyright 2011
This is the final result from the second demo painting. It has developed and changed so much that it scarcely looks like the block in anymore. Yet, I am extremely pleased with where this painting finally ended up. It hovers on the edge between representation and abstraction, minimal in form, unified on tone and color and focused in concept.
This was a hard won achievement with many false moves and reworking along the way. But for all that I never felt frustration just the urge to keep pushing the idea until it finally came close to the concept in my mind's eye.
Here's a quote from David Cleveland's book A History of American Tonalism: 1880 - 1920 that's been running through my mind lately...
" The Tonalist predilection for moonlights and nocturnes, the moods of autumn and winter...speaks of a fondness for dreamy and haunting light, a pale and silvery illumination in which landscape forms are silhouetted and the more general details are merged into an indistinct moire satin"
Here's the original block in....
And here's how it compares to my most recent painting...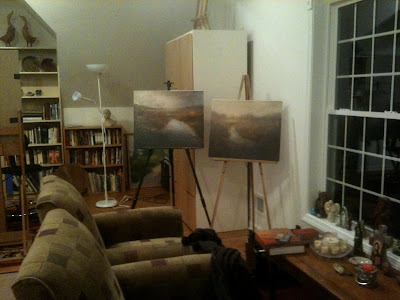 I like to set up works in progress or recently completed works so that I can evaluate and analyze them over the course of several day or even weeks. Sometimes This process leads to big changes and re- working the painting, sometimes just to little tweaks.
I have a commission to work on next which I may do as a drawing in charcoal or possibly as a pastel. Stay tuned!
Posted using BlogPress from my iPhone